By Michael Battista
Staff Writer

Before most students arrived at the College, the women's soccer team was hard at work preparing for its upcoming season.
The Lions dominated last season. They pushed for a 14-game winning streak and earned a New Jersey Athletic Conference regular season title.
During the run, the team was filled with an impressive squad of 15 freshman who will now be returning as sophomores. Sophomore backup goalkeeper Nicole DiPasquale was fond of her first year.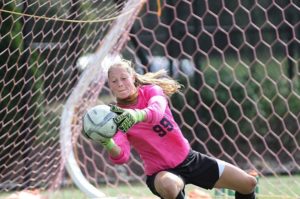 "Last season will definitely be one that I will never forget," DiPasquale said. "Coming in as a freshmen to this team was one of the best things I have ever experienced. I have never been apart of such a close team before. We were truly a family and it showed on the field."
With every gain comes a loss, however, as the team graduated midfielders Lauren Malajian, Sarah Marion, Marissa Scognamiglio and Marykate Sullivan along with defender Brianna Petro, forward Christine Levering and goalkeeper Jessica Weeder. Levering was the leading goalscorer last season and Weeder started every game for the team. Weeder was in her fifth year at the College and had been a dominant force on the field for much of her tenure.
"Playing under Jessica Weeder was a great experience and I definitely learned a lot," DiPasquale said about her former teammate. "She was not only a great goalkeeper, but also a great mentor."
The team is looking to replace its seniors with a batch of new players, while last year's large freshman class hopes to use its newfound experience in full. DiPasquale hopes she and her fellow sophomores can help create the same sort of atmosphere as last season.
"Our freshmen class was super close right off the bat, and it's exciting being able to share our strong bonds with the class below us," DiPasquale said. "The team has high hopes that our strong friendships will relay itself on the field and help the team as a whole. We want to give the freshmen as good of an experience as the upperclassmen gave us last year."
If they can recreate the same sort of play as last season, the Lions have the potential to be a dominant force in the NJAC. The Lions earned eight out of 10 votes in a preseason coaches poll, according to an NJAC press release. Rowan University and Montclair University earned the remaining two votes respectively.
Though the lady lions may have struggled throughout the past three seasons in the NJAC finals and NCAA Tournament, players remain optimistic. For the seniors, this could be their last chance to finally break that barrier and earn a coveted postseason title. DiPasquale has a lot of confidence, despite several roster changes.
"I have no doubts that our team chemistry will be any different than it was last year," DiPasquale said. "That being said, I am very confident that we will be very successful this year."
The Lions begin the year with the Haverford College Kick Off Classic in Haverford, Pennsylvania, on Saturday, Sept. 2, against CUNY York at 4 p.m. The Lions start the regular season a week later on Saturday, Sept. 9 in Collegeville, Pennsylvania., against Ursinus College at 1 p.m.