By Christine Houghton
Sports Editor

On March 5, the lacrosse team defeated Ursinus College 16-1 and then went on to take down Dickinson College 16-9 on Saturday, March 9.
Starting the College off strong, junior attacker Talia Bouzakis scored the first goal within a minute into game play.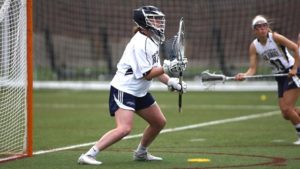 To continue the nine-goal rally, Bouzakis added two more goals and an assist. She also recorded a hat trick from an assist by junior defender Jessica Allen. Junior attacker Kasey Donoghue contributed two goals, one being off an assist by junior attacker Olivia Cleale.
Junior midfielder Alexandria Fitzpatrick scored her 100th career goal with 17:50 left in the first and went on to score four more goals and one assist.
With one second left, Donoghue scored the Lions' 10th goal of the half to put the team up 10-1.
Outscoring Ursinus 6-0 in the second half, midfielders junior Chloe Pottillo and senior Erin Harvey both had four draw controls on the day. Senior goalkeeper Miranda Chrone finished the day with nine saves.
A pair of goals from Fitzpatrick started the team's game against Dickinson strong and she went on to score three more goals and an assist before the final buzzer.
Harvey followed the first two goals with one of her own and went on to score three on the day. Cleale also contributed a goal before the first half was over.
Donoghue scored one of the team's 10 goals in the second half and was followed by Fitzpatrick's goal off an Allen assist and an Allen goal off a Cleale assist.
Finally, junior midfielder Allie Gorman had a goal to close out the game.
Chrone had an impressive day with 19 saves, setting a new career high.
The Lions have improved to 3-1 as of this past weekend. The team will take to the field again on Saturday, March 16 to take on Amherst College.