By Ann Brunn
Staff Writer
The women's soccer team ended its duel in a scoreless tie in double overtime against Stockton University on Oct. 23.
In the 13th minute, sophomore midfielder Alyssa Curtis sent in a shot from 16 yards out, but the Stockton goalkeeper saved it. Moments before the first half concluded, junior midfielder Caroline Rubin attempted a free kick, yet it was again stopped by the Stockton goalkeeper. The Lions held a 7-0 advantage in shots for the first half.
The Lions' attack kept the Stockton defense on alert when junior forward Randi Smith ripped a shot off in the 61st minute, followed by a shot attempt from freshman midfielder Gianna Coppola. However, the Stockton goalkeeper deflected both of the shots. With just over a minute to play in the second overtime, sophomore forward Nikki Butler took a shot that appeared to be going in toward the bottom left part of the net, but the Stockton goalkeeper punched it away at the last second. The Lions' defensive unit stifled the Stockton attack by holding it to one shot on the game, whereas the Lions had 18. Senior goalkeeper Nicole DiPasquale picked up the shutout in the net. With the draw, the Lions' record moved to 12-1-1 overall and 6-0-1 in the New Jersey Athletic Conference.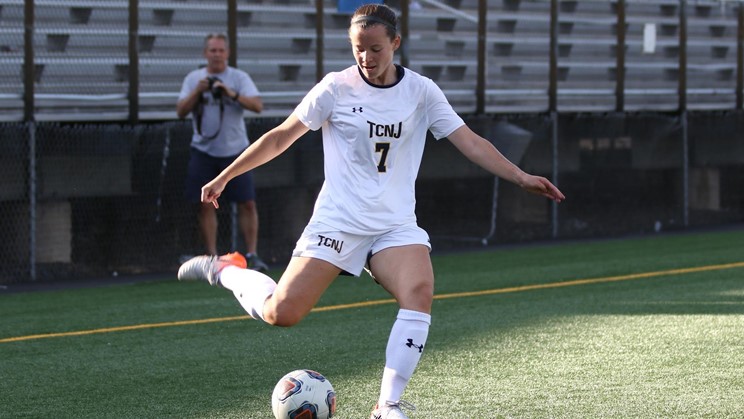 On Saturday, Oct. 26, the women collected another win against NJAC opponent Montclair State University by a score of 3-0. Senior midfielder Taylor Nolan started the scoring for the Lions in the eighth minute when she connected on a pass from Coppola for her fourth goal of the season. Montclair State was quick in attempting to answer Nolan's goal, but DiPasquale tallied a pair of saves.
Ten minutes later, it was again Coppola who set up Smith to give the Lions a 2-0 advantage and Smith's fourth goal of the season. DiPasquale came up with another pair of saves to keep Montclair State at bay before the half. Minutes into the second half, junior midfielder Kelly Carolan added to the Lions' lead and collected her seventh goal of the season. The Lions held the 3-0 advantage for the rest of the match, as DiPasquale notched five saves on the afternoon and another shutout in goal, while the defense held Montclair State's attack to only six shots on the day. With the victory, the Lions improved to 13-1-1 overall and 7-0-1 in NJAC play.
The Lions return home today for Senior Night, where they will honor the eight seniors on the team and play their last regular season game against Rowan University at 6:30 p.m.